Chenab College Jhang
Here you can find all updates about Chenab College Jhang Jobs(Screening Test) which has the last date of Friday, 15th July 2022 to apply.
For All Latest NTS Application Forms (Jobs Vacancies)

Department Name: 

Chenab College Jhang

Last Date for Application Submission: 

Friday, 15th July 2022

For Project Details: 

Test Date: 

Will be available after last date

Result: 

Will be available after test
Chenab College Jobs 2022 (Advertisement)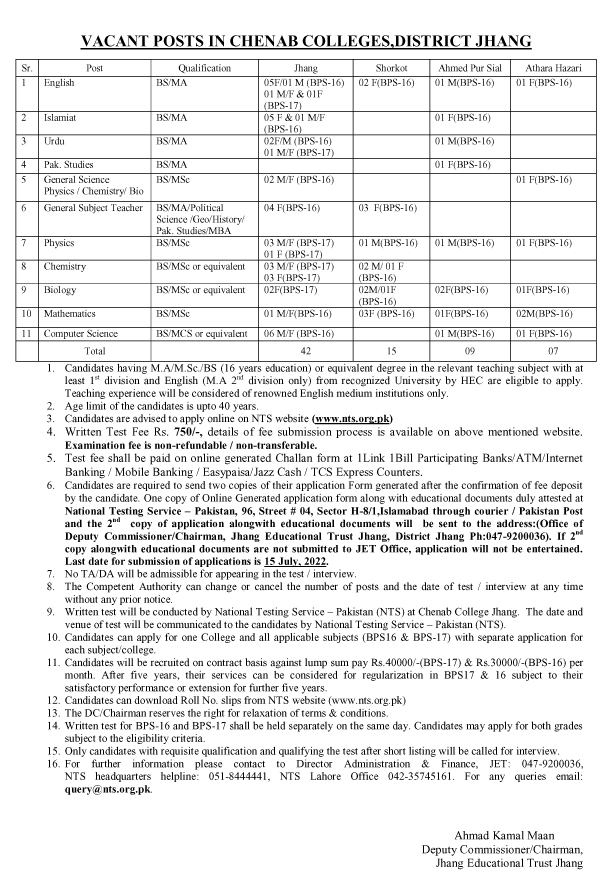 Introduction of Chenab College Districy Jhang
The college, in pursuance of the directives of the Prime Minister of Pakistan and Chief Minister of Punjab, was established on a self-help basis in the year 1991 to provide quality education.
Chenab College is situated 12 kilometers away from District Courts Jhang Sadar on Jhang-Chiniot Road. The college estate covers an area of 208 acres, out of which 107 acres is enclosed by the boundary walls.
In order to fulfill the outstanding requirement of this area, the promise for the establishment of a Public School in the name of Chenab College was made by the then Prime Minister of Pakistan on 18.10.1986.
Establishment of the same institution was announced by the Chief Minister of Punjab on 27.03.1988.
Constitution & Registration of Jhang Educational Trust (JET) Jhang on 05.01.1989.
Directive to Local Administration for raising sufficient funds for the purpose was issued by the Chief Minister Punjab on 13.11.1989.
Area leased out by the Board of Revenue Punjab in December 1989: 71 Acres
Area sanctioned in 1991 by the Board of Revenue Punjab : 77Acres
Idea for upgrading this school at par with reputable institutions in the country conceived in 1990.
Chenab College was started on 1st February 1991 by Mr. Muhammad Athar Tahir, the then Deputy Commissioner Jhang.
Classes started (Pre-Nursery to Class 5) in a rented building on 17.02.1991
Shifted to the present campus on 12.04.1993