Fauji Fertilizer Company Management Trainees Programs (FFC NTS JOBS 2021)
Here you can find all updates about FFC NTS Jobs 2021 which has the last date of Monday, 8th March, 2021 to apply.
For All Latest NTS Application Forms (Jobs Vacancies)

Department Name: 

Fauji Fertilizer Company Ltd

Test Date: 

Will be available after last date

List of Candidates: 

Will be available after last date

Result: 

Will be available after test.

For Online Application Form: 
FFC NTS Jobs 2021 (Advertisement)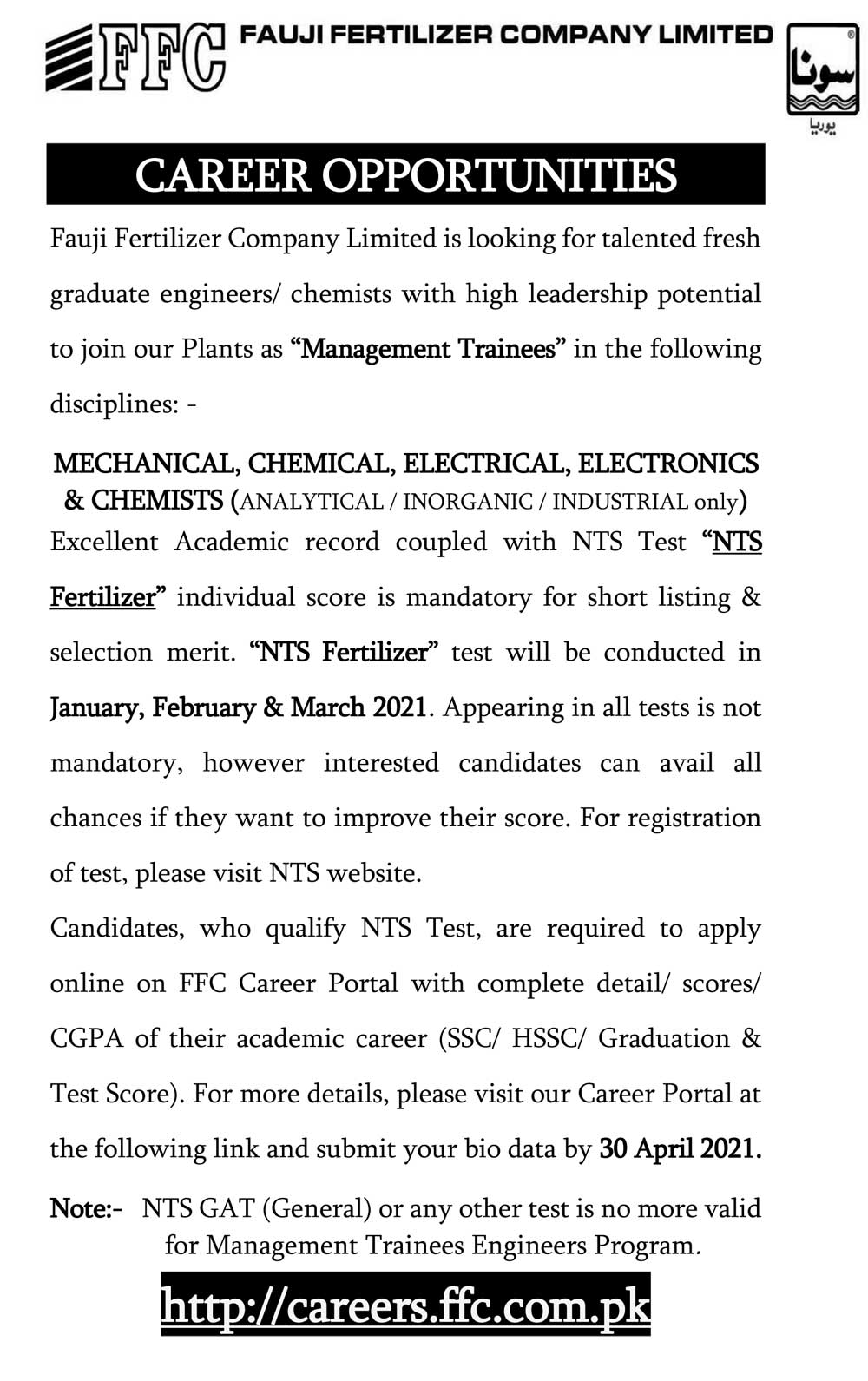 Fauji Fertilizer Company Limited (
Fauji Fertilizer Company Limited is a Pakistani chemical company that produces chemical fertilizer. It was established by the Fauji Foundation which holds a controlling interest. Fauji Fertilizer Company Limited is a public company incorporated in Pakistan under the Companies Act, 1913, (now the Companies Act, 2017).
The vision of FFC is to be an inspiring, unique, and globally changed enterprise with a symbol of excellence, trust, and innovation.
The mission of FFC is to take a lead role in agricultural & industrial development by delivering premium products and services while maintaining a high level of social and environmental responsibility for all the stakeholders, thus providing a powerful and challenging environment for our employees.
The Corporate Strategy of FFC is to maintaining our competitive position in the main business, we employ our brand name, different organizational culture, professional excellence, and financial strength changing in local and multinational environments through properties and new projects thus achieving synergy towards value creation for our stakeholders.
At FFC we seek strong uprightness through each individual's effort towards the quality product for our customers, maximizing returns to the shareholders and sizable addition to the national treasury. Our business success is dependent on trusting relationships.