Application Form
Here you can find all updates about the Pakistan Medical Commission Admission 2020-21 which has the last date of Monday, 2nd November 2020 to apply.
For All Latest NTS Application Forms (Jobs Vacancies)

Department Name: 

Pakistan Medical Commission

Test Date: 

Sunday, 15th November 2020

For Application Form: 

List of Candidates: 

MDCAT Postponed By Orders Of The Honorable Sindh High Court. Rescheduled Date To Be Announced After Compliance Of The Directions Of The Honorable Court.

Result: 

Will be available after test.
(PMC) (MDCAT 2020-21) (Advertisement)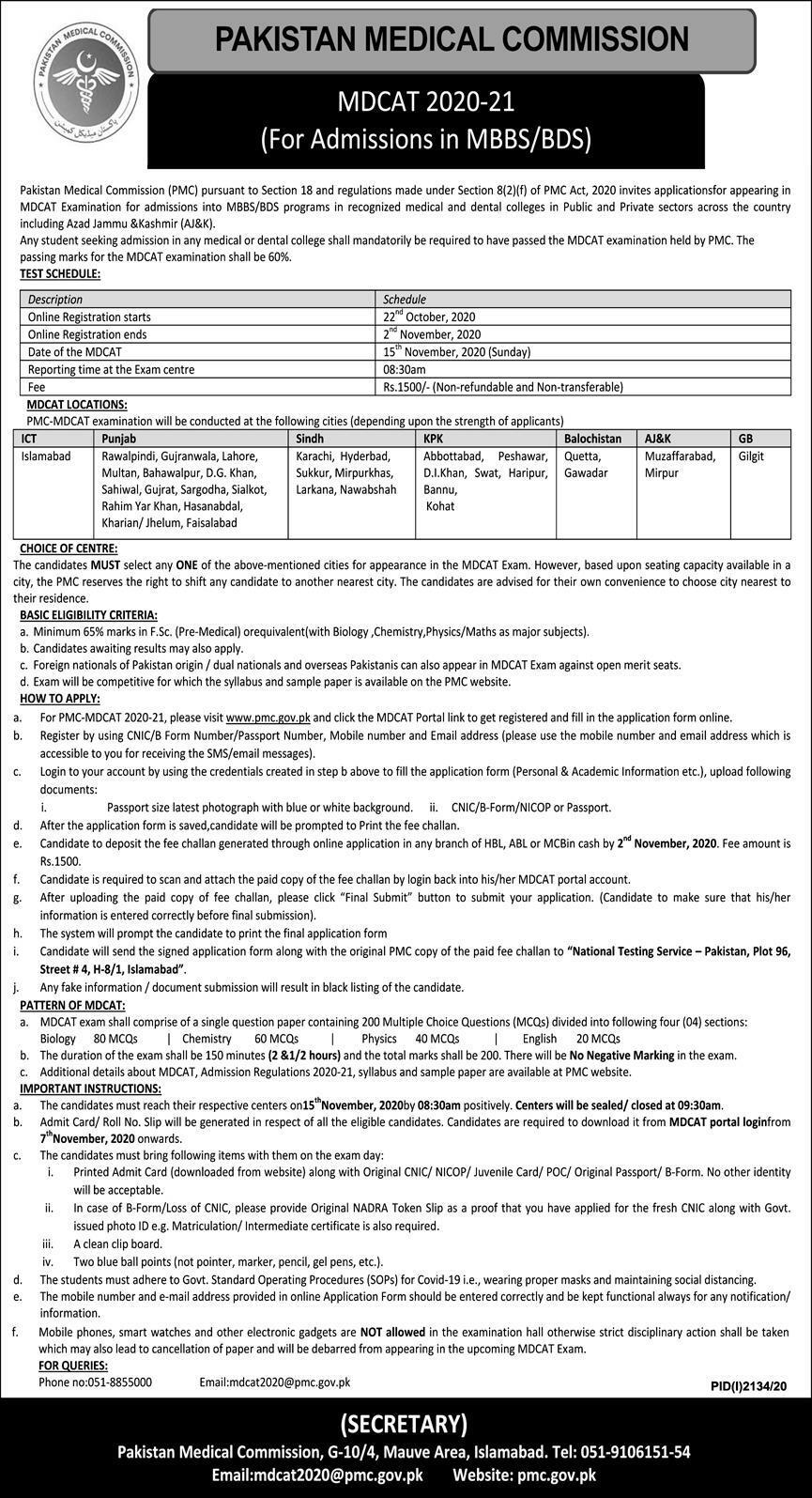 Introduction of (PMC)
Pakistan Medical Commission (PMC) previously known as Pakistan Medical & Dental Council (PM&DC) is a legal regulatory authority that maintains the official register of medical practitioners within Pakistan.
The basic functionality of (PMC) to establish a uniform minimum standard of basic and higher qualifications in medicine and dentistry.
The (PMC) register medical practitioners within Pakistan and suspending or excluding members when required. (PMC) also sets the education standards for Medical Colleges in Pakistan with the Higher Education Commission (HEC). All medical and dental practitioners and students are required to register with the council to legally practice medicine and dentistry in Pakistan.
The (PMC) according to Section 18 and regulations made under Section 8(2)(f) of PMC Act, 2020 encourages applications for appearing in MDCAT Examination for admissions into MBBS/BDS programs in recognized medical and dental colleges in Public and Private sectors across the country including (AJ&K).
Any student seeking admission in any medical or dental college shall be required to have passed the MDCAT examination held by PMC. The passing marks for the MDCAT examination shall be 60%.
The PMC has to regulate the practice of medicine and dentistry in Pakistan. All medical and dental practitioners and students are required to register with the council to legally practice medicine and dentistry in Pakistan